By Noah D.
So, in lieu of boat news at the moment–but of course that is coming along–we actually do go out and do things from time to time. Living in London, it would be an absolute shame not to explore a little of the region. In a matter of days, we decided to use a three-day-weekend wisely to the time we actually began our little excursion and we fully planned our getaway. By "planned," I should mention, I use that term loosely: you'll see why in a moment.
This particular time, we took a little trip to Ireland. Now I'd been to Ireland (and specifically Dublin) but this was Lynn's first trip to the Land of Éire. Flights to Dublin from any number of the 291 airports in the London metro area cost in the £100 range per ticket. Including the cost to get out to whatever airport it might be (Heathrow costs as little as a few quid if you take the tube but the Heathrow Express from Paddington costs £20, Gatwick Express from Victoria costs £17 or so, etc) there must be a better way…
There is.
It is nice to get to sea somehow from time to time. There's a RailSail double ticket that cost us just around £40 per person per way. The train goes from London to Holyhead in northwest Wales; then the ferry leaves from there to Dublin. The whole thing cost only £162 for the round trip for two people, taxes and such included. Certainly better than we could have done flying.
However, the cheap route comes with a little baggage. And not the rolling kind. I consider it a plus, actually, because it adds the feeling as though you're actually traveling rather than teleporting from place to place in the metal tubes.
The first few hours after departing Euston Station in London, we stood with our stuff in the connecting area between train cars. Completely due to the fact that we were taking the train at one of the busiest parts of the week (Saturday morning at 9am), all the other travelers and commuters were on their way out of London to the north and to Wales. To fully grasp this, you must do it someday. Fifteen or twenty people with all their bags, and breakfast, and sweat, in a curved space about one meter wide and three or four meters long. But, to our advantage, we did have the bathroom inches away. Whatever advantage that might be.
We only stood or leaned or sat in this crawlspace for a little over an hour. Maybe ninety minutes. I think it was at Crewe there was a mass exodus and we got a seat for the rest of the trip. It is in these moments that people's true nature shine. In the midst of so much calmness and resignation to the situation, there are spastic ninnies who seem to be unable to handle a bit of mild discomfort. Without giving them any more space than they deserve for now, I say to you: never be the spastic ninny.
One concern that every traveler must consider is when changing modes of transportation (for instance, rail to ferry or rail to airport) how far is one mode of transportation from the other and will there be an unforeseen middle mode of transportation. If you are traveling to France via Portsmouth Harbour, there's a little connection to be made there that likely involves either a brisk walk or a brief taxi. Holyhead, on the other hand, requires a very brief stroll: the ferry terminal is literally inside the train station. It's… like… a hundred meter walk.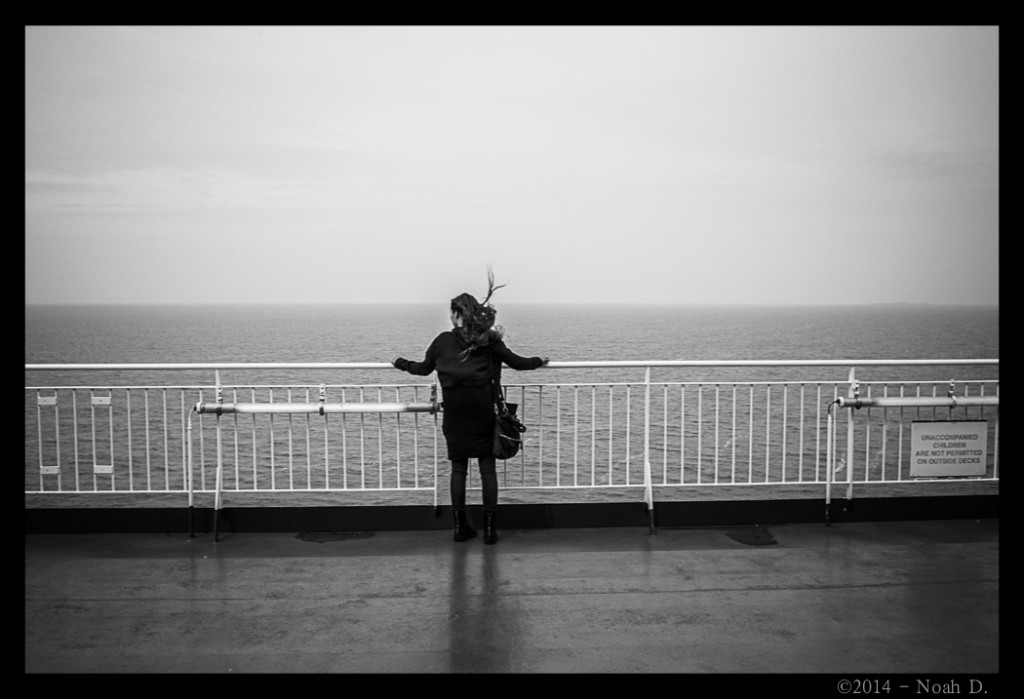 Check-in was similar to checking in to any other ferry or airline terminal. Considering we were about to go to another country–the Republic of Ireland is not part of the United Kingdom–there was surprisingly lackadaisical security. I'm not actually sure I got checked. Our bag was checked like an airport and I'm sure it was scanned eventually, but otherwise, my "personal bag" was nigh untouched.
A brief bus trip took us directly onto the ferry. No surprises there.
The ferry itself was actually just fine. Most of these ferries are designed similarly and have the classic things most cruises have: cafeteria, a cafe, a bar/pub, a big sitting area, the outdoor areas, etc. And I've been on loads of ferries in my life, but this one might actually have one of the better foods I've had on board. Maybe I was just hungry, but I was pleasantly surprised by the non-microwaved quality of it. Kudos to you, Irish Ferries, on your realistic representation of a steak and ale pie.
Now, the next part of the story involves revealing something about my tendencies toward travel: planning is often optional. But more importantly, the use of "no plan" as part of the experience always–always!–ends up with some sort of experience worth telling. It ensures an anecdote. And here's the one I built in for this little weekend getaway…
From the ferry terminal, we took a quick taxi to the airport to pick up a rental car. We wanted to get out of Dublin and see the countryside, and what better way to do that than to drive it. We would pick up a car and drive for a couple hours until we found a neat little town, and then find a quaint little bed-and-breakfast to settle down for the night. Of course, Ireland is famous for the astonishing number of these little bed-and-breakfasts all over the country, and why would it be any problem to find one with a vacancy?
I say, One Direction stole our beds. Or rather, their hoard stole our beds. How could we have known they were in town for a multi-day concert series and pretty much every bed in a 50 mile radius of the concert was taken! By the time we started looking, we were almost an hour outside Dublin. It took every bit of the next two hours to find a bed-and-breakfast with a vacancy by stopping at every place that looked occupied. Proof, again, that there are lovely people everywhere in the world… even at random, tiny pubs in the narrow roads of County Meath. Or perhaps I should say especially at random, tiny pubs in the narrow roads of County Meath: explaining our situation, the proprietor and few patrons at the bar started pitching in ideas and making calls. A few minutes later, we had lodging at the Isaac's Well in Clonmellon in County Westmeath.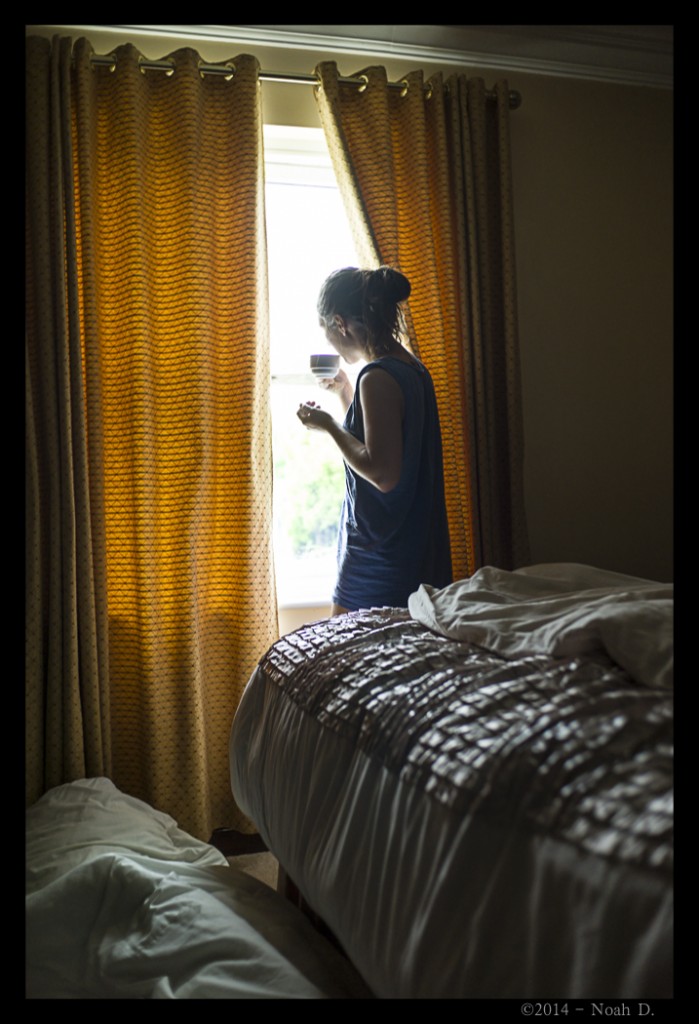 The landlady had just had surgery and could not provide us with the "breakfast" part of the bed-and-breakfast, but the accommodations were actually spectacular. Everything seemed fresh and new and the huge room and bathroom actually sparked the conversation: "What if we just stay here all weekend?"
And for €35, definitely not bad.
Oh, and about the money: The next morning was Sunday. We started looking for someone to check out, leave the key and pay for the room. There was no proper desk, of course, and the barman had just tossed us a key the previous night… and the bar was closed. Honor system it is, then! We left the money and the key on the table in the room and departed…
Oh, and one last thing before leaving this area of Ireland: if you're ever near Kells, pop into the Keltic Bar by the Headford Arms Hotel (also full of One Directioners, btw). The kitchen had been closed a few minutes by the time we arrived, but the staff sat us down by the fire and went to get the cook who had just left. I'm not sure I've had this happen to me anywhere else in the world.
So… driving the countryside of Ireland now, we loaded up on road trip snacks and headed west. The internets say that Ireland is approximately the same size as the state of Indiana, so it takes just a couple of hours to drive all the way across it. Especially considering they've got a serious highway system that makes travel across the country pretty straightforward and fast. We made it all the way across the country to Galway long before lunch. To the north to the wilds of Connemara or to the south to Doolin and Dingle and the Cliffs of Moher and all those places people tend to find themselves while backpacking Europe.
To the north, it is!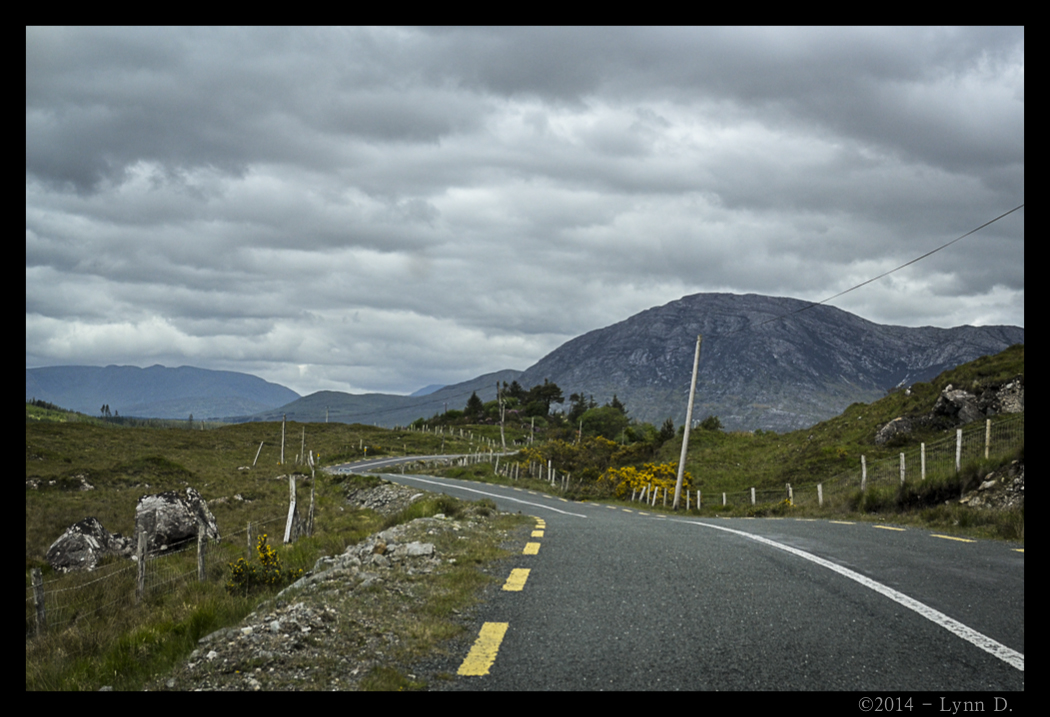 We worked our way northwest. This area is just really brilliant. Really beautiful and craggy landscape. The grass and trees seem lightly laid on top of some ancient world, like the moss that sits just on top of rocks. The whole world could be peeled away.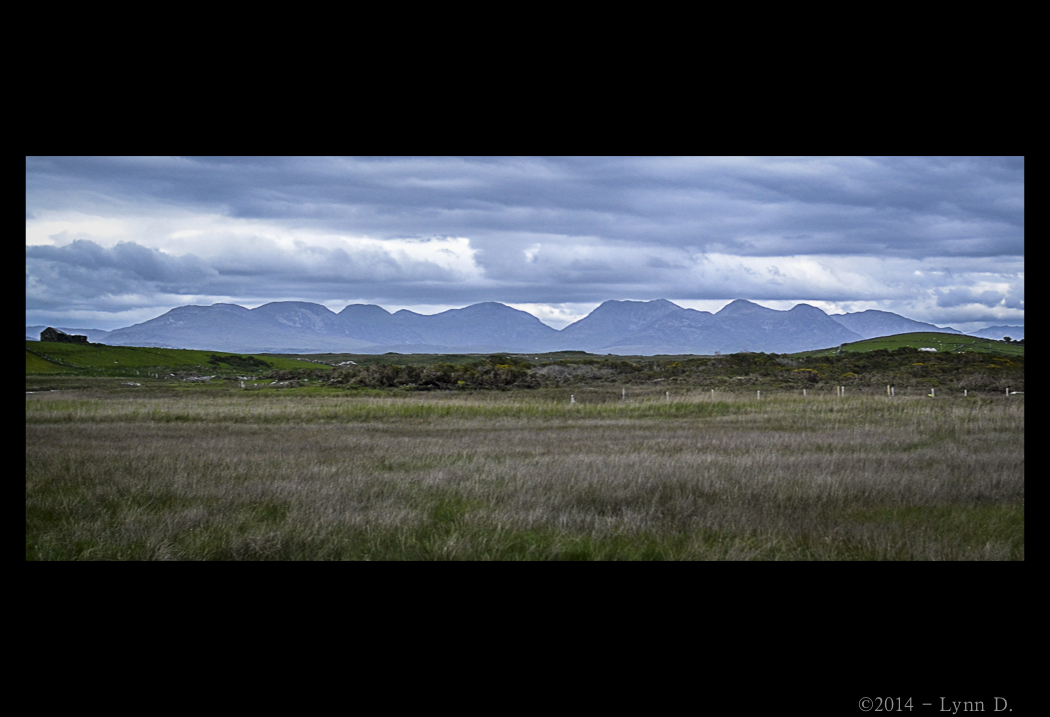 You'll notice, Lynn is making most of these photos. I was driving. It isn't a forgiving road.
Having just come back from an assignment in the Republic of Georgia, I took an interest in the sheep. The sheep are completely different here than the ones in Georgia. (But that story is for another time.)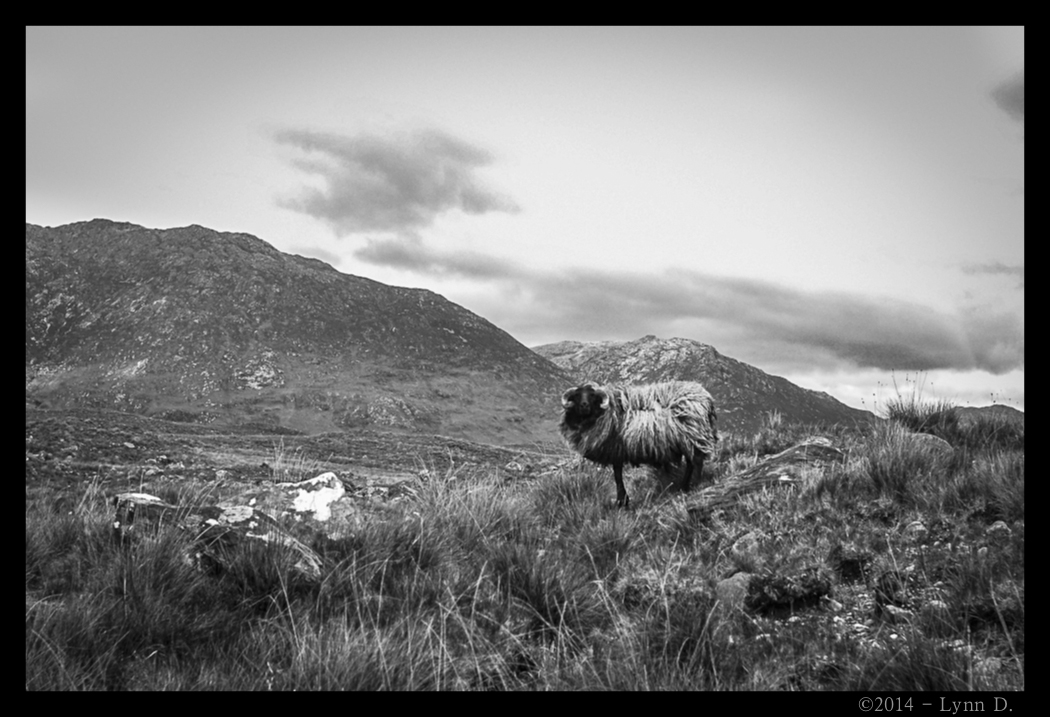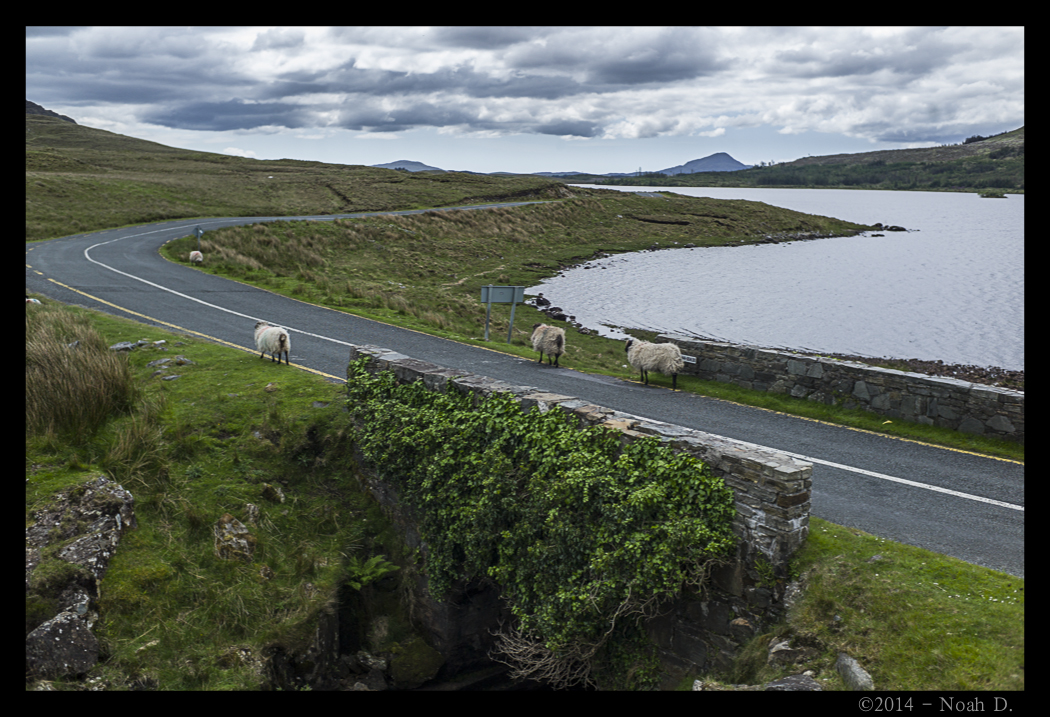 Traveling like this is a bit of a risk at times. For the person with their face in a guidebook, they probably won't ever miss all the big stuff that we might have driven right past. But we still do okay, I think. Anything missed, we just have to come back and hit next time… but we don't miss much.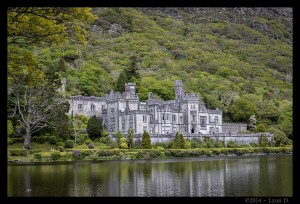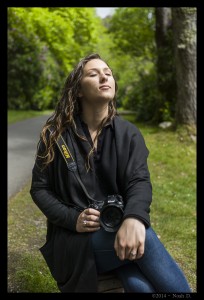 Like the relatively insane Kylemore Abbey, for instance. If you're randomly traveling through this sort of terrain and this thing pops up in the distance, you kinda go see what's up. Turns out, it was one of the most elaborate and lavish estates in the British Isles. Even Kings have looked to it as a getaway home, but one famously decided against it citing the fact that even a king couldn't afford such grandeur.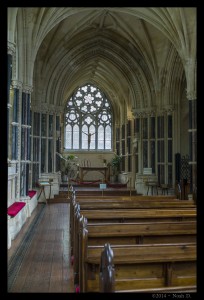 The story of the palace is legendary in the area and I dare not spoil it for you here. Best to visit and savor it all for yourself.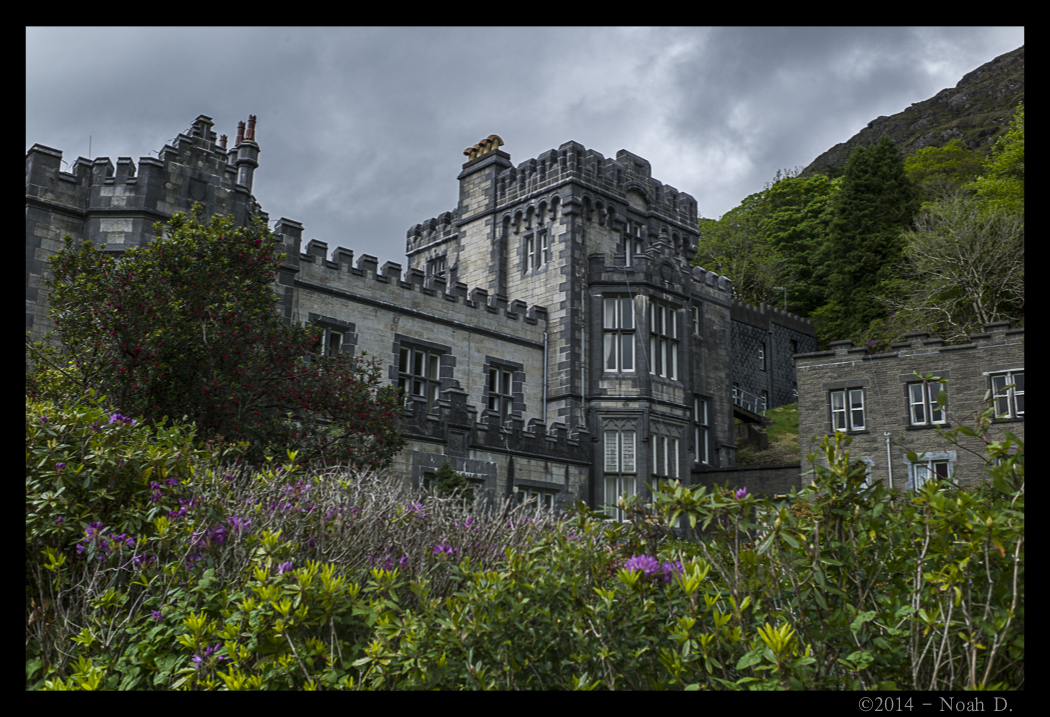 Now well into the afternoon, we must continue on.
Driving down the coast of Connemara, the landscape changed again. The huge hills (or "bens") continued, but the coastline changed everything. Thatch-roof, stone cottages and a narrow road winding amongst ancient rock walls that end in the sea… I love unconventional landscapes and this was certainly one of them.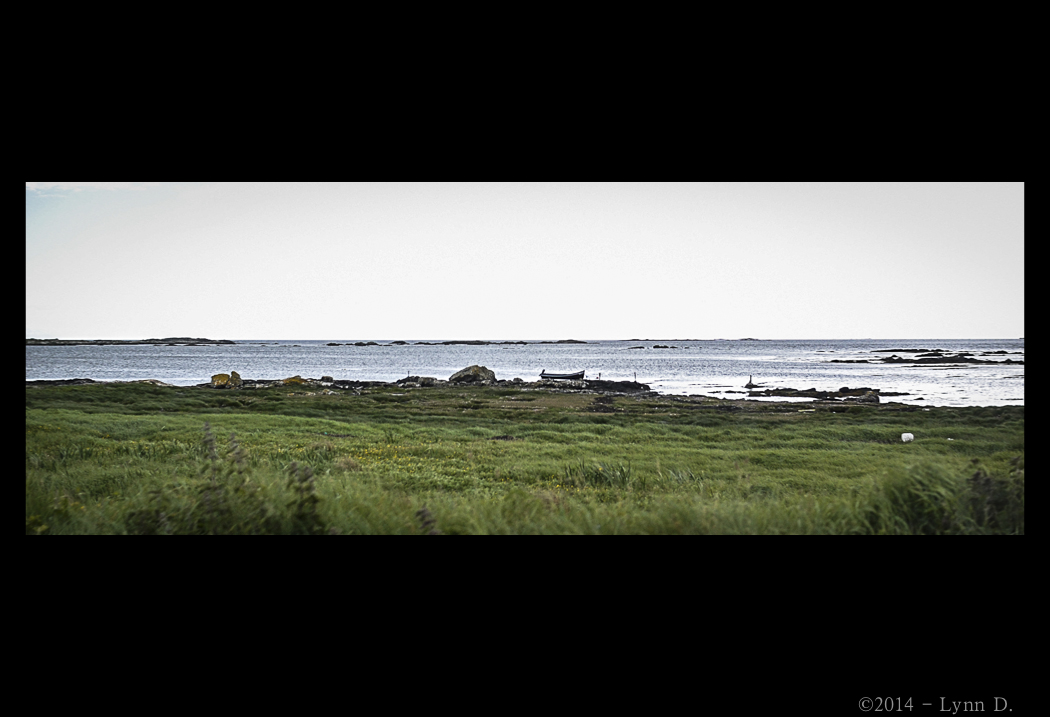 Returning to Dublin was quick. As much of a shame as it was to leave the brilliant countryside, we needed to get the car back to the airport.
Which brings up another topic: car rentals.
I though it would be nice to give the local company a shot instead of going with the huge giants like Hertz or Avis or Sixt. Well… I'm not sure I'll be doing that again anytime soon. Found online on a typical travel site, it was the cheapest. But to get the same level of car, insurance, and GPS unit, we got our clock cleaned. I mean, properly reamed.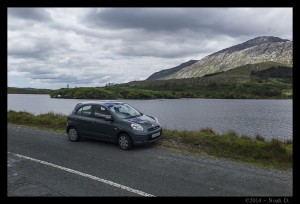 The dorky little car was a champ and actually moderately fun to drive on these crazy narrow roads, but the rental company (which I have intentionally neglected to mention) left a lot to be desired. Especially in the "hidden fee" category.
Looking back at it now, I probably should have known better, but what's done is done. And why didn't I just say "forget it" at the check-in desk instead of going through with it? Because unless you cancel within 24hrs of the booking, you gotta pay for the first day. Yep, ya got me, friend. Shame on me.
Not really the feeling you want to go away with, is it…?
Anyways, all that aside, the rest of the trip (post-credit card melt-down) was just fine. Dublin is a neat little town. It is manageable and can be walked across in a really short amount of time. Most of the sites can be seen in a single day.
What is worth visiting? I'd say the Jameson Distillery or the Guinness Storehouse should be on the top of your list. Even if you aren't interested in the libations, these–along with similar places like the Jack Daniels Distillery in Lynchburg, TN–are single-theme museums that do one thing really well: tell you how a very specific product is created from start to finish. Where some museums spread themselves too thin, these types of educational tours break down a process and show you how something is done. And they do it around all the original equipment. There's a fair amount of propaganda, but what do you expect: that said, the tour staff are cute and funny about that fact, interacting with their groups and keep it from being boring. And, of course, there are taste-testing moments throughout… which means you're actually getting a little more for your money than the average walk-through museum.
See also? The Kilmainham Gaol (pronounced "jail") and the Zoo are usually biggies on the tourist map. The Dublin Castle might be worth poking your head into, but it costs a bit and I'm not sure everybody gets their kicks in such places (loads of local history… and… not much else). Other things to stop by might be Trinity College or the National Museums and the famous churches (like St.Patrick's).
Public transportation is really easy to figure out and it covers most of the town, but I don't think we used it much: it is so easy to walk around.
One thing that I did when I visited previously: I took the hop-on-hop-off bus tour and saw pretty much everything worth seeing in the town in a single afternoon. It was so simple and I remember it being shockingly cheap back in 2008. When I looked at the prices this time, I was a little disappointed that it had jumped so high (in the €20 per person range). Such is the way of things…
Undeniably, the pub culture is alive and well. Pay attention to which tourist map you pick up because there is actually one that is the Nightlife Edition, marking every pub, nightclub, and bar in central Dublin. It doesn't do much for you if that's not your thing, but…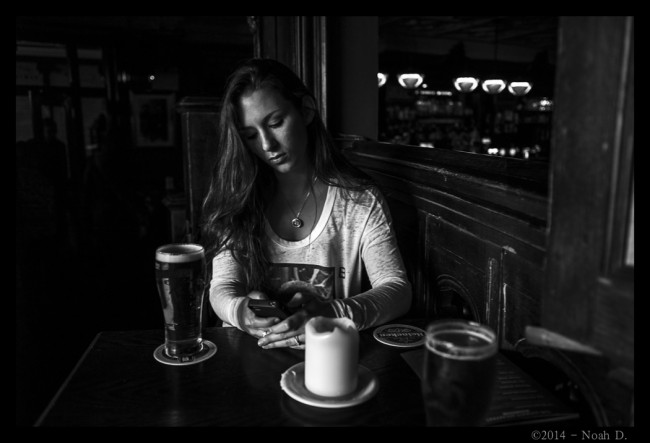 We stayed at the Fleet Street Hotel right there at the Temple Bar. Pretty solid hotel and there was no beating the location. Here's the trick, though: the original purpose of staying outside of Dublin the first night was driven by the fact that I noticed that Friday night or Saturday night hotel bookings in the city were astronomical. Serious sticker shock. It turned out this was entirely driven by One Direction masses. And the hotels made bank.
"It couldn't have been that much of a difference…" you say? Oh…
Here's an example: I (unscientifically) found the average Friday and Saturday night bookings in a central Dublin hotel costing around €200-€250 per night. On Sunday night, the exact same hotel dropped to €80. By Monday: €65. For one night, it would have cost us more than what we spent for our whole two night stay (since we stayed Sunday night through Tuesday morning).
I mean, I don't blame them. If screaming fans are going to pay ridiculous prices to see this year's fad pop band, they're also going to fork out the cash for the hotel in which to swoon in post-ecstatic fervor. But, we're also not going to pay that. Pay attention, travelers, to who or what is going on in town.
The return trip was a bit exhausting, by the way. I'm sure they have their reasons, but our only option on the return (at this price category) was to be up all night. The travel consisted of the ferry trip across the Irish Sea to Holyhead, a lengthy wee-hour vigil in the Holyhead train station, and then the last little jaunt back into London. We arrived at Euston during the eight o'clock hour, just in time for a little nap and Lynn getting to work at noon.
No biggie. As intense as sitting up in a train station from 2am-4:45am might sound, it really is about par for the course when traveling… pretty much anywhere. Yes, it is fully possible to treat travel just like a trip to Disney World complete with normal waking hours and almost luxurious accommodations. Traveling like that requires, believe it or not, vast amounts of money. The rail, airlines, and hotels know this. Just like they know people will fork our thousands of $/€/£ for a weekend at a concert, the prices reflect this. On the other hand, there are times and routes that don't require a huge pocketbook because, at the same time that the travel companies jack up the prices when it is obvious they corner the market, the same companies will have wildly lower-cost travel options, too. Which means it is fully possible to travel on a budget, you just have to realize that there are sacrifices to be made in the name of comfort.
Basically that's all it is: comfort. You'll still get there, but you might have to stand part of the way. You'll still get there, but you might have to stay up late at night. You'll still get there, but you'll have to take just a little bit longer to get there. And, you'll also have somewhere to stay, whether you have to make your own bed up and bathe in a community shower, that's part of the trade-off for cheapness.
If I make a concession, I usually err on the side of a little more money for accommodations. Travel from place to place doesn't need to be that comfortable and I can stay up late. But I kinda like my own space, moderate privacy, and know that my stuff isn't going to be stolen when I leave it in the room to see the sights.
So there… Dublin.