By: Noah D.
Proteus has now been in the water a full two days. Finally.
No joke, I'm sitting here at the salon table trying to work and I'm being gently rocked to sleep. The lines are creaking. The wind is whistling lightly. Yeah… two days.
We've been living in treehouse mode for about two weeks prior to our launch a couple of days ago.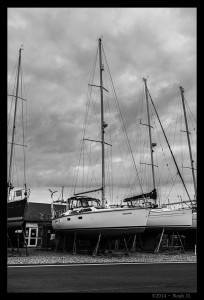 And for that time, we've had all the usual amenities on shore power except for the air conditioner (which we use in reverse cycle for heat and dehumidification) and normally flushing toilets. Oh, and it feels just like a treehouse: climbing up a ladder and a 15ft drop to the ground from the deck.
All things considered, though, it was a relatively nice way to move in. It made everything fairly convenient (except the climbing the ladder thing) and we both got a taste of what it was like before we had to worry about all the other things like keeping the boat tied to the dock and making sure it doesn't sink.
The Relaunch
The relaunch, though, was one of the more bizarre things I've seen in a while. It isn't that I've never seen huge boats being driven around by marina hoists – I grew up around this stuff – it is just that I've never seen MY boat being driven around by marina hoists. Any boats previously have just been large enough to drive around on a trailer and just back down into the water in a slipway. Alas, no more. It is on the scale of a minor industrial operation to move this boat.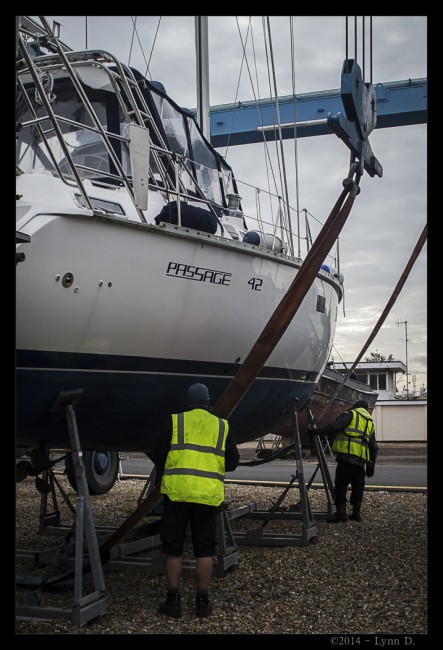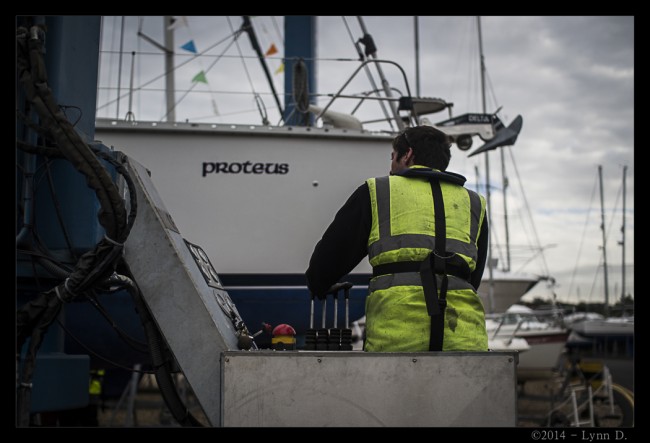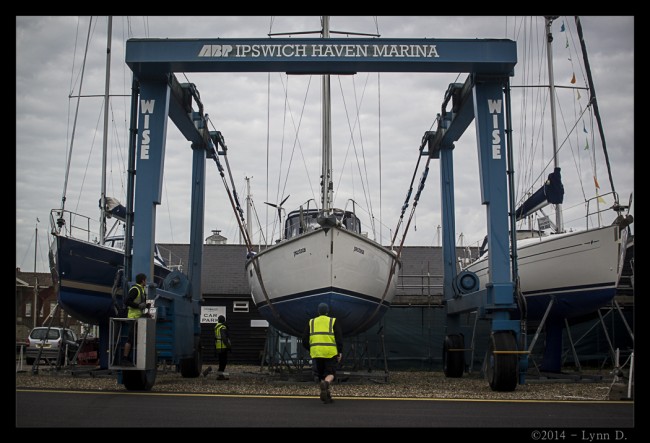 All of Lynn's and my "stuff" was being carried around and then dropped into the water.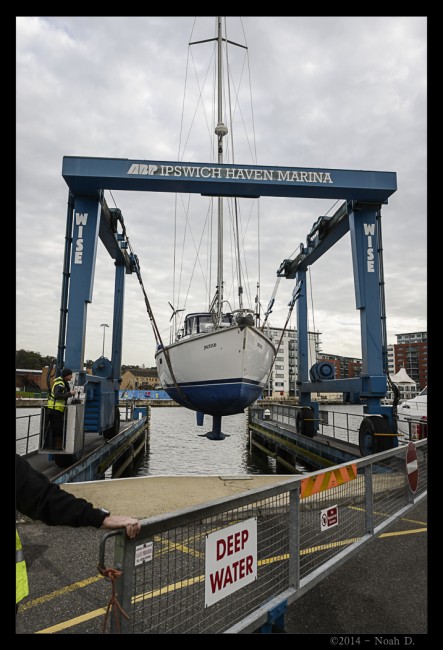 But Proteus handled it as if it was no big deal. Just another day at the office for her.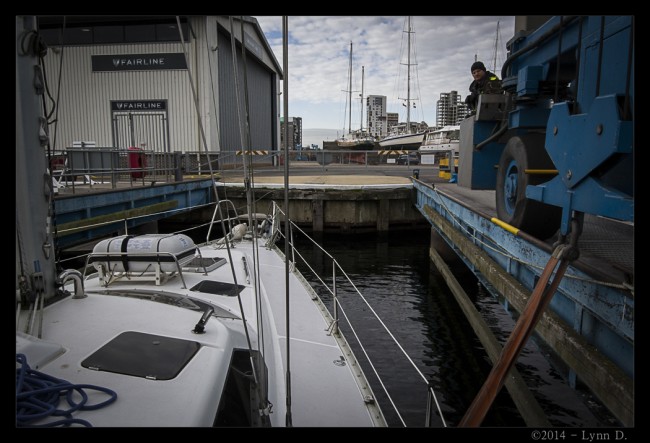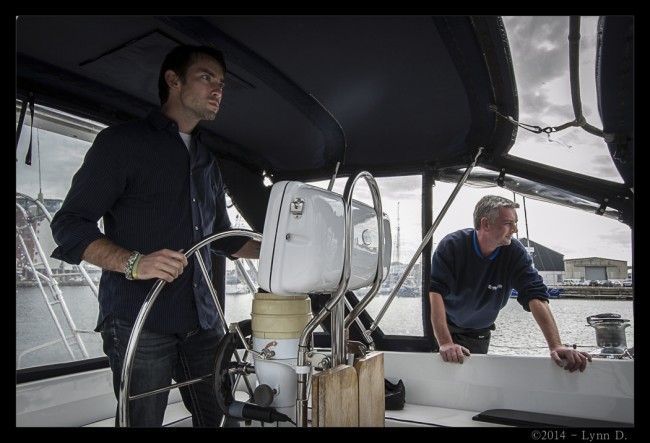 Wow, now that's a game face…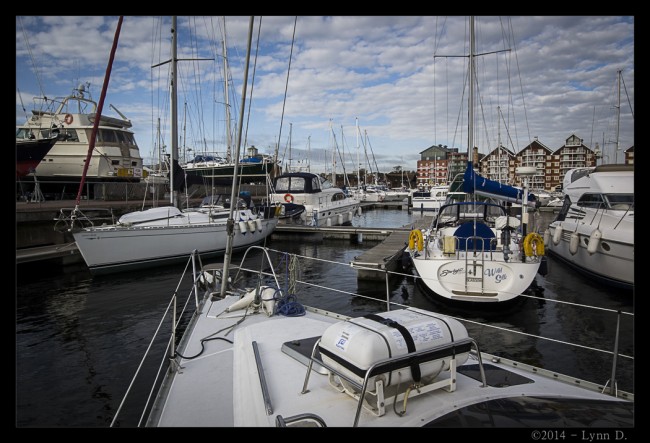 Coming into the berth for the first time.
Interestingly enough, with both water tanks full (150 gallons) and a full tank of diesel, Proteus still sits a few inches above her waterline. It is kind of nice to know, actually! Literally everything we own is in the boat and its cumulative weight (plus the two of us) doesn't make much of a difference.
I'm interested to see what happens when we load up for a jaunt across the oceans.
A Little Jaunt
Proteus relaunching was such an exciting thing to witness, but simply floating is not the purpose of a boat. Without so much as a stitch of sail on the pole – it was only about 4-6kts of wind yesterday, anyway – we went a couple of hours down the river here and back to our berth. We called the Prince Philip Lock controller on Channel 68 and out we went!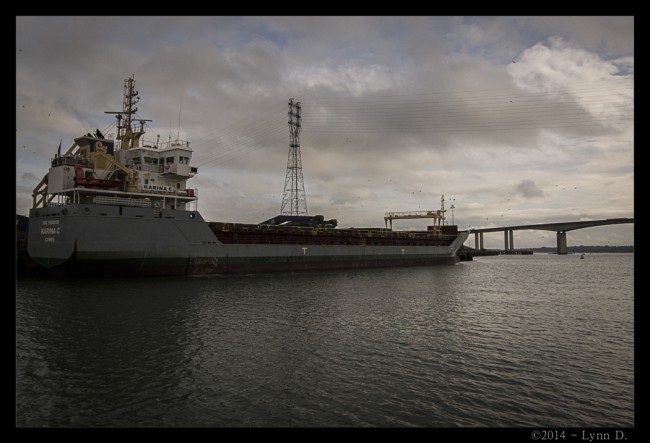 One thing we found out about Proteus' cockpit dodger is that the front screen is a little difficult to see through. At times. It isn't fogged at all, it is just a little glare-y and wrinkled. It would not be a problem if we were not looking for buoys. In the middle of the ocean, it probably will be just fine. That being said, my first major purchase or physical modification might be a hard dodger/windscreen.
That's about it, though. I suppose the most exciting visual is the huge Orwell River Bridge. And some waterfowl. We went about halfway down the river to 52ºN and turned back, ahead of the rain. A total of 9 miles. I hope you'll stay tuned for when we hit double digits. And triple digits. And quadruple digits. It won't be long.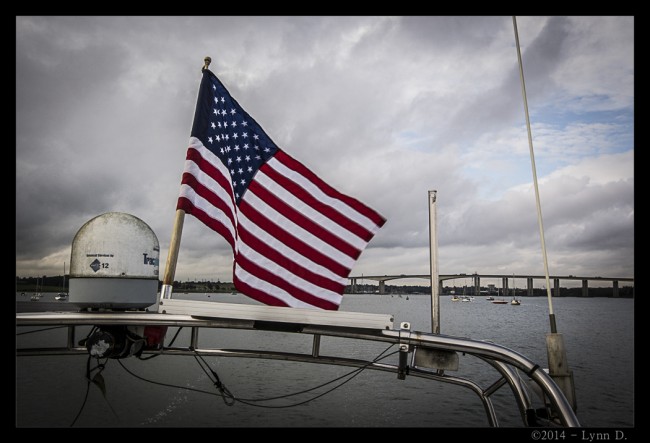 Stay tuned…