By: Noah D.
What on earth have we been doing for the past month of silence on this blog?
Everything under the sun. (Well… whenever there is sun.)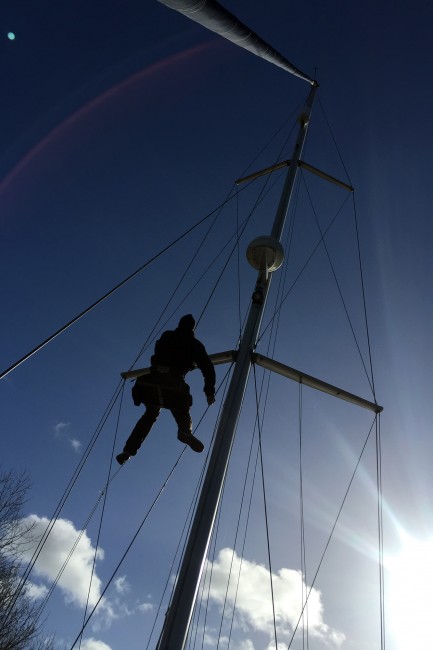 I've installed the new AIS and VHF splitter (which required running a second GPS receiver, a new NMEA cord to the helm chartplotter – I had to wait on it to come from the USA – and the physical installation of the units in a tiny little space) and I found how much a mess the nervous system of this boat is after 20 years of build-up. (And whoever did it was insane.) I dismantled one toilet entirely to unblock a blockage and partially disassembled the other to install a proper anti-siphon… which proved to me that I have my Dad's iron stomach. New LED navigation lights are also installed… the old ones stood full of water half the time. However, now the green side has a decidedly blue hue, but they are super bright. Also, we installed all new LED interior lights and red night lights after two fixtures decided to go out completely. Lynn has been up the mast twice: once to retrieve the lazyjack halyard that broke during the Celtic Sea storm… and then again a few days later because I dropped it and it ran 20ft up the mast. And speaking of lazyjacks, we got everything restitched and I rebuilt the track on the side of the boom (that had also been ripped off in the Celtic Sea). The whole cockpit enclosure and dodger has been removed, treated, restitched, and reinstalled… we had a dodger window blow out during a storm. We have two new halyards and a clean bill of health for the rigging after a survey.
What do we have left? Our generator is still not running right. Some of Ireland's best and brightest mechanics have been working on it and there's still something amiss. It'll come around…
Also, we're going to have the boat lifted out briefly for a bottom spray before our trip south. It is amazing how much crap grows on the bottom of a boat in 6 months… even with good anti-fouling!
Finally, we've been out for a little sail up the coast from Kilmore Quay to Arklow. And we'll be in Greystones before too long to be close to Dublin for final provisioning and picking up our new companions for the Big Trip south.
Expect the updates to come more frequently as we begin our adventure. I hope you'll stay tuned…