By: Noah D.
At long last, we have returned to Proteus. We were gone exactly one month. To the day. We left to spend Christmas with family; after all, we were unable to go home for Christmas last year due to my university work and Lynn's job. All was not all quiet in Kilmore Quay, though. Since we left, there were a number of pretty severe storms and "Weather Bombs" including one that peaked at Force 10.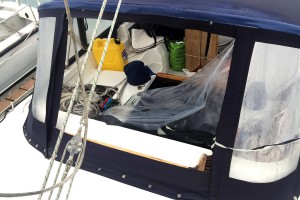 Considering that the only damage was a blown-out vinyl window that was already a little weak with UV-damaged stitching, I think we came out okay. No wonder all the rest of the boats in the harbour are completely stripped down!
Completely unrelated to the storms, there is always something that you come back to that you didn't expect: thankfully there was no extra water in the bilge, but the Webasto/Airtronic heater didn't come on. Since the temperature hovers around freezing most nights, this was not something to shrug off! Must fix. Press the button and… no go. Fiddling with it a while, I figured out that the pump had run dry – no fuel in the lines. Lo and behold, it turns out that there is no need to prime these pumps: they will re-prime themselves after turning the system on and off a few times. And by "a few times" I mean… like… a dozen. We were slightly concerned that we would be sleeping under two quilts and a duvet until I got it fixed, but enough Google-ing and you can fix anything! These heaters are really amazing. They're super smart and it almost seems like they self-diagnose and repair.
But, really, there's not much else out of place… besides the fact that everything is impossibly messy and cluttered. Such is boat life sometimes…
Otherwise, over the next few weeks, we will be working on various and sundry systems. Needless to say, we'll be having a canvas repair person out. And the genset needs some work. And we've got a new AIS to install and such, so please stay tuned. The count-down to our Big Trip across the Atlantic is less than 40 days away.