By Noah
In the last post, I discussed things we are hunting in the interior of our sailing home. None of these are necessarily deal-breakers, but–as I mentioned last time–we are trying to decide what would we miss if we didn't have it or had to deal with it not being there.
For this episode, we get to the serious parts of a sailboat. Not that a galley isn't "serious" but you can sail without a galley… you can't sail without things like sails.
Line leading is a bit underrated.
All sailing craft have sails. Somehow those sails are run aloft. And somehow those sails, once up there, are controlled. Some sailboats are a mess of ropes in the cockpit while others are spread around the boat strategically.
The mess of ropes cluttering the cockpit is usually a side-effect of all lines running aft. All lines running aft (at least somewhat) assumes shorthanded sailing. Honestly, I'm kind of okay with it. Maybe after 10,000 miles I'll think differently, but for now, I'm really okay with it. In fact, I redesigned my little old boat that I rebuilt to have all the lines running to the cockpit. Primarily it was because the boat was small and didn't have stanchions; but secondarily, it was because I was going to be doing a lot of shorthanded sailing with a tiller and no autopilot: I needed everything within reach.
Granted, that sort of boat has only a few lines and a 40 foot boat will have a dozen, but…
Sails.
The brand probably doesn't make a huge amount of difference to me… but their layout does. Cutter rigs are going to be a real selling point for me. If for some reason we find a good ketch, I don't really mind as long as it has those double headsails.
Why? My understanding of the physics of offshore sailboats is that it is a highly desirable feature to be able to quickly drop your surface area down in a gale. Roll up the genoa and leave the staysail. Another feature is that much heavier boats need a bit less wind with cutters. I'm not certain how much that is physical fact or fiction, but it can't hurt.
A great topside.
This includes everything that can be walked on. As much as I love the idea of a nice wooden teak boat, I'm not really going to be distraught if I never have to do all that maintenance. I'm really not. However, I think it is only reasonable to expect the topsides to be usable. We've got to be able to walk around on the deck without feeling like I'm walking on a tightrope. And… places to hold on. Some of these boats have beautiful, clean-looking topsides, but if the boat was heeled a few degrees, there's no place to hold on.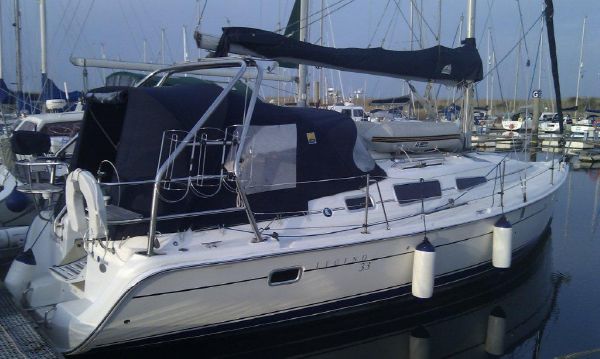 Secondly, but not secondary, is a good cockpit.
But, more important that a covered cockpit (that is really only usable when the boat isn't underway) is a comfortable cockpit. Reading all manner of literature, it seems that having a cockpit that you actually enjoy spending time in makes spending required time (like long night watches) less painful.
That said, I think a dodger and/or spray hood is going to be needed. Since we will be living aboard, I've also found a few boats (Hunters, primarily) that have a really nice cockpit tent. I consider that a pretty good extension of the interior. Lynn and I are from the American south and we like our "outdoor" space… even in the winter we will use a porch. A cockpit tent sorta gives us that porch-y area.
Navigation, radar, and electronics.
I see practically no boats these days without some semblance of GPS or chart plotter. Also standards are things like radar, depth sounders, VHF, windspeed and direction, autopilot, etc. One that I'd really feel good about adding (if it wasn't already there) is the AIS. We live in the North Sea and the English Channel, one of the most busy shipping lanes in the world. It would be insane not to have as much capability to be seen by these freight ships that are hundreds of meters long.
Another little fun piece of equipment is the depth finder. Fishermen would use them back on the lake that I grew up on to find fish. I don't really care about the fish as much as seeing the bottom more than just numbers. That is really useful.
All of these I would feel pretty good having them readable from the navigation station. I've seen a boat or two in the past that had its only depth sounder out on the wheel binnacle. I guess it is more of a convenience than anything, but having multiple places to view important information just seems intelligent. I'm actually not a fan of those huge digital displays being outside. Putting such expensive technology outside–I know, I know, it is technically made for it–just seems like asking for things to last not quite as long as it would have inside.
An anchor.
Yeah, for real. A good one. Enough rode to circle the earth wouldn't hurt, but anchor holding is more about technique and planning than anything. A good number of the horror stories I've heard from people who sail extreme distances are attributed to the ground tackle having some problem.
A usable tender.
A side-effect of the inability to get close to shore (because… keel) is a need for a good tender. I rode in a dinghy not too long ago with five people in it. Simple, tiny zodiac hauled nearly 1000lbs of people and a bit of gear a hundred meters or so. Now, the allure of too-good-to-be-true foldable boats (like Porta-Botes) just seem… too good to be true. It might take some trial and error…
---
Ready for heresy?
Things that don't matter (to us).
Waterline. No matter what is said on the internet about hull shape and waterline/length ratios, there doesn't seem to be a clear consensus. Anywhere. And I think it comes down to people comparing apples and oranges and trying to come up with a conclusion based on widely varying sea states, wind conditions, boat design, sailor skill levels, and a probably a host of other things.
Keel or bulb or wing or dagger. All I want to be sure of is that the ballast doesn't fall off. We may do some shallow-water cruising someday, but I sincerely don't feel as if one foot of difference will prevent anything. The weights and performance issues? I feel as though much of this, again, comes down to personal preference. I get it if you're racing in the America's Cup, but…
Hull material. Yeah… don't care. Wood, fiberglass, aluminum, steel… everything has to be worked on eventually. Modern boat manufacturing has equalized the playing field. We may do some high-latitude cruising someday (higher than 51ºN, I mean) and I might eat my words; however, I'm seeing loads of people cruising in ice fields with 30-year-old Catalina, so I don't really know what to think. For now? Meh.
-Noah D.
###