By: Noah D.
I'm sitting here in Sines, Portugal. It is just after 10am. All the hatches are open and there's a gentle north-ish breeze. A few minutes ago, two small RIB's hummed by outside with their crews decked out and loaded up with spearfishing equipment. We spent yesterday afternoon hanging out at a beach bar: it is like something straight out of a spy movie. I don't think I've seen a cloud in about three days. We finally made it to this part of the world.
That being said, not everything happens the way you think. Sometimes it turns out for the absolute best. And by "best" I mean "better than I could have ever planned."
We will be turning left…
Instead of crossing the Atlantic this summer, we're going to do the right thing – our insurance company definitely agrees – and stay on this side. We are running up against hurricane season and, rather than cross dodging tropical waves in varying stages of tropical depression/storm development, we might as well put a few more thousand miles under Proteus' keel. And that's where things are going to get interesting…
We, being USA citizens and such, cannot stay in Europe indefinitely. Visas are serious things… even more so for professional travelers. So, we'll be hanging out in some of the more obscure and (definitely) more exotic sailing locations of the Mediterranean. (A quick search to find out which countries are "non-Schengen" will give you a hint at our itinerary for the summer.)
Will it be hot? Freakin' hot.
Will it be fun? Probably. And frustrating at times, I'm sure. But, mostly just completely different from our first 9 months aboard. We've been sailing in the high-latitudes – we JUST crossed below 40º for the first time! – so our learning curve is starting to reverse itself: "What? The tide difference is less than 2 meters!?" or "So, there are going to be other visiting boats in the marina??" not to mention "What do you mean, I have to put my anchor down in the marina and back into the quay…?" Most of all, I think we're still getting over sitting on the midnight-to-4am watch without five layers and foul weather gear (and usually a wool blanket over all that)…
See what I mean? This is breaking into a new realm of sailing for us. But it will also be ushering in a new realm of living. We have been "moving the boat" since we left Ipswich. Now we are going to be taking it slow, considering time in terms of weeks rather than days. We will actually spend time in the places we are visiting. I'm ready to have a non-rhythm to my life. Furthermore, we will be stretching our budget to its absolute limits: by doing this, we will be forced to wring a budget meant for two or three more months into six… or seven… or eight.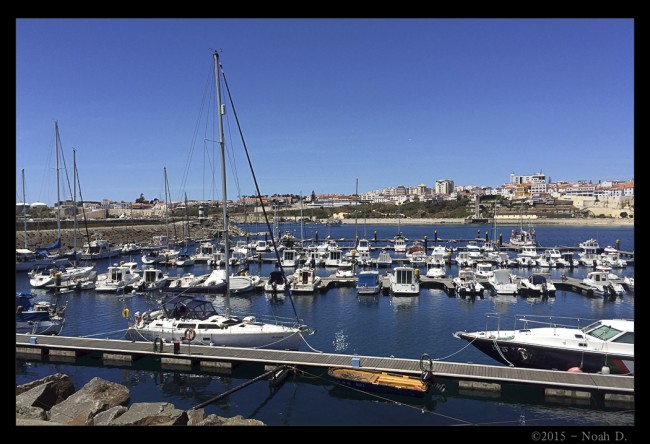 In late-October or November we will be back in this part of the world (i.e.: Iberian Peninsula) preparing to head south for the Canary Islands and Cape Verdes. I think these couple thousand extra miles have come at just the right time.
Since I began traveling years ago I have lived by the mantra, "Whatever happens, it's going to be good." I think this is a great time to say it again…